Add wireless monitoring at 1/10th the cost
Traditional enterprise-scale sensor systems still require complex infrastructure and complex code. Swift Sensors Cloud Wireless Sensor System offers food manufacturing plants a low-cost, unified solution to proactively protect and monitor equipment and processes using a simple wifi connection.
Connect with existing sensor infrastructure

In addition to Swift Sensors complete line of wireless sensors, connect with thousands of existing industrial sensors with the 4 – 20mA current sensor. The Swift Sensors 4-20mA sensor connects to your existing equipment and will monitor PLC loops for existing data measurement feeds.
Set complex monitoring thresholds to ensure efficient operations
Swift Sensors Dashboard allows simple and complex configuration of measurement thresholds. Critical equipment monitoring of power, vibration, and temperature ensures efficient plant operations. The Swift Sensor system effortlessly integrates your equipment with wireless temperature sensors, wifi temperature monitoring, and more.
Wi-Fi/Wireless Temperature Sensor
Swift Sensor's Wireless Temperature, Humidity and Dew Point sensors incorporate the latest IoT technology to make it simple and cost-effective to monitor the environmental conditions in your facility or on your equipment. The wireless sensors communicate their data to a Bridge appliance that securely communicates the data to the cloud via Wi-Fi, ethernet, or cellular communications. The sensors measures temperatures between -40°F to 185°F, relative humidity and dew point. Typical uses of the wireless temperature sensors include facility monitoring, food safety in food manufacturing and in restaurants, greenhouse monitoring, and agriculture.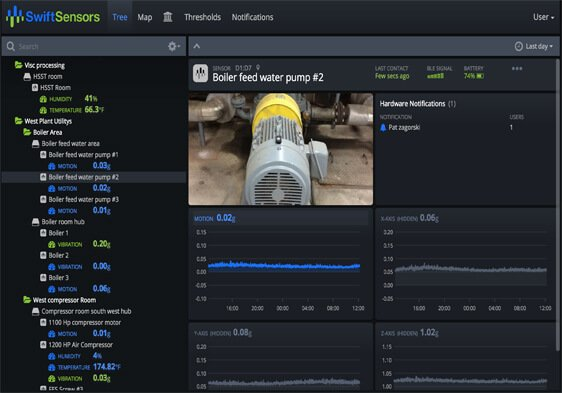 Swift Sensors is a cloud-based system of small wireless devices that proactively manage your critical food manufacturing and processing equipment. Swift Sensors are trusted by some of the largest food manufacturers in the world.
Here is how Swift Sensors work in 3 simple steps:
Sensors. Plant Managers install our small wireless sensors on equipment they need to measure such as walk-in coolers, freezers, pumps, compressors, condensers, electrical power sources, etc.
Thresholds. For compliance and food safety, Plant Managers then set specific ranges (Thresholds) for particular measurements they want to monitor.
Notifications. Plant Managers setup Notifications which are alerts (notifications) that are sent when certain thresholds are met.
WiFi Temperature Monitoring, Wireless Temperature Sensor, Vibration Sensors, and More to Improve Food Manufacturing Processes
One of the biggest challenges facing food manufacturers and food processors is receiving real-time data from their equipment. Without this critical data, Plant Managers are often operating in reactive mode rather than proactive mode. In today's competitive manufacturing economy, Plant Managers can no longer count on manual employee temperature checks, visual inspection, or old-fashioned data loggers. New technologies such as IoT monitoring tools, industrial wireless sensors, and vibration monitoring are necessary tools in today's food manufacturing world.
This is where Swift Sensors comes in. We have developed a low-cost wireless solution that immediately alerts Plant Managers when things like temperatures go too high or if vibrations go out of range. We have over 30 different types of sensors (i.e. remote temperature sensor) that can measure everything from temperature to vibration to voltage to water presence. Our sensors can provide a variety of functions such as acting as a server room temperature monitor, remote temperature monitoring system, humidity sensor, and IoT monitoring platform.
Swift Sensors allow you to collect Measurements, create Thresholds for compliance, and send Notifications when certain user-defined conditions are met.
Advanced Dashboard & Analytics
Swift Sensors for Food Manufacturing provides more than just measurements and notifications when thresholds are breached. Swift Sensors also provide you with complex analytics such as machine utilization, compliance and multi-measurement graphing. Our analytical dashboard and metrics allow you to compare machine vs. machine output, overall compliance across complete facility for given machines and shifts, employee performance, relationship analysis of multiple measurement types.
Simple Installation
Swift Sensors is simple to install and provides incredible customer service to provide any help you may need.
No wires to install.
No sensor configuration required.
Calibration offsets available.
Install in just minutes.
Battery life approximately 1- 5 years.