OXYGEN Measurement Software
The OXYGEN measurement software is the most intuitive and easy-to-use software in the data acquisition sector, designed to be operated via touchscreen or classic mouse and keyboard. Its nice instruments and controls make it fun to navigate through tons of data. 100 % Made in Austria by DEWETRON.
All-in-one software for measurement, visualization, and analysis for many applications
Compatible with almost every DEWETRON measurement system including 3rd party components from Vector, GeneSys, and OxTS
Easily expandable with additional license options or plugins
Open to the world – including remote control capability via TCP/IP

Data Acquisition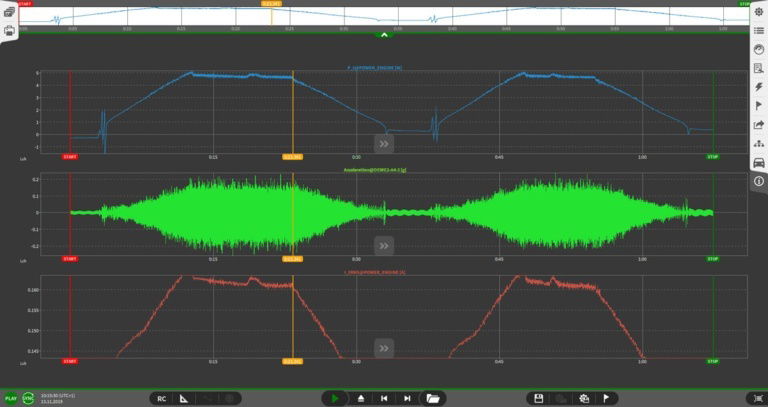 Data acquisition is one of the core features of OXYGEN. It is capable of continuous and synchronous acquisition of data from several sources: analog, digital, encoder, CAN, Ethernet, video, GPS and much more.
Analog data with up to 10 MS/s via TRION3™
Digital and encoder data with automatic rpm and angle calculation
CAN(-FD) decoding via dbc, including J1939. Compatible with Vector VN-series (option)
Ethernet receiver for external sensors (option)
Video data from USB or GigE camera
Precision GPS position data via TRION™, GeneSys ADMA or OxTS RT series
Recording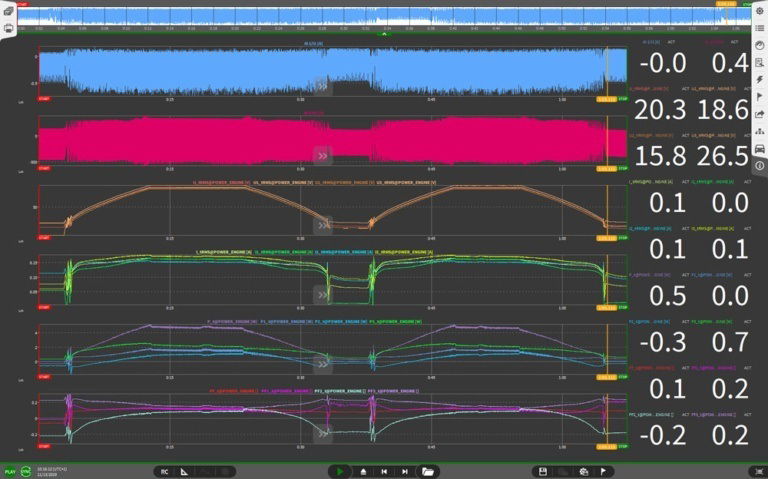 The second core feature of OXYGEN is powerful data recording. All the acquired data can be stored in one data file with a simple touch on the record button. With the right hardware, you can achieve data rates up to 1 GB/s, you don't have to bother to lose anything.
DejaView to review data during recording
File-split option for generating a new file after an amount of time or event occurrence
DMD-file format for efficient storage
Save data locally or remote on a shared drive
Open on any PC with the installed OXYGEN software (for FREE)
Visualization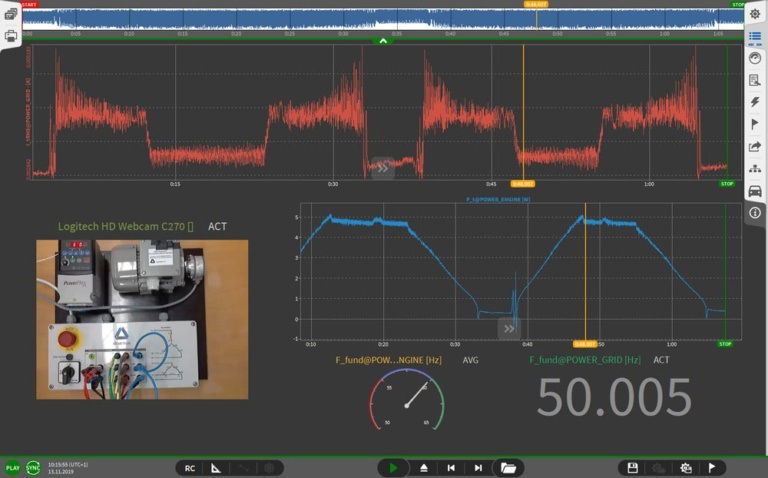 The right visualization gives the data its value. Attractively designed visualization instruments with intuitive and smooth operation.
16 different visualization instruments for every purpose
Highly customizable screens, perfect for your application
Multi-monitor support for best overview
Order Analysis (Optional)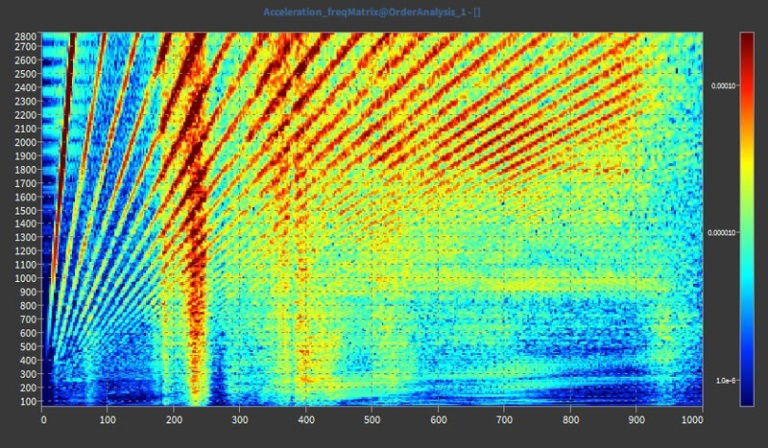 Analysis module for rotating machine's noise and vibration. This feature turns your OXYGEN into a full order analysis instrument for calculation and visualization of frequency and order spectra vs. speed.
Simultaneous frequency and order domain analysis
Smart resampling algorithm for accurate and fast results
Selectable speed ranges from 60 rpm to 100.000 rpm
Order resolution from 0.01 to 1, with up to 90 % overlapping
Order extraction for selected orders for use in recorder or XY-instrument
Visualization of the result matrix in intensity diagrams
Power Analysis (Optional)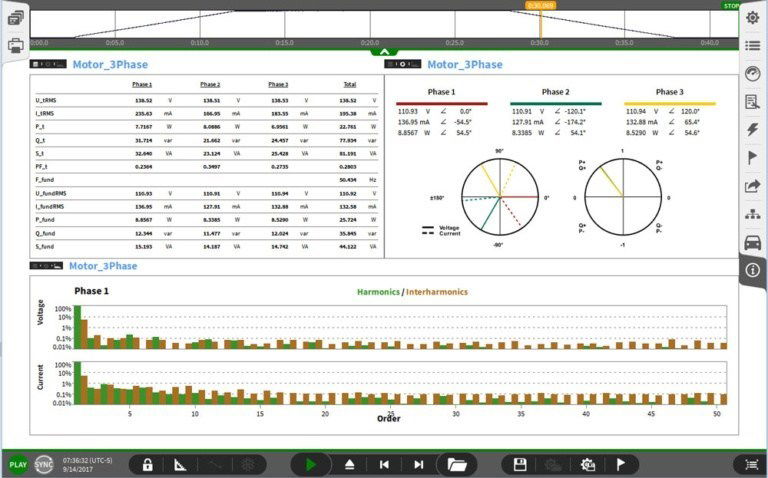 Turn your DEWETRON measurement device into a fully-featured Power Analyzer. This feature is the core feature of our PA-series devices, but also available for any other device. Its flexibility and feature scope are outstanding on the market:
Analysis of 1-9 phase power systems (1P2W, 2V2A, 3P3W, 3P4W, 6P6W, …)
Several power systems are logically summarized into Power Groups
Gapless cycle-by-cycle calculation, no blind spots
Unique fundamental frequency detection with delay compensation for highest accuracy and reliability of the results
BASIC features: voltage, current RMS, AVG, fundamental and symmetrical components, active/reactive/apparent power total and fundamental as well as energy
ADVANCED features: harmonics (IEC 61000-4-7), flicker (IEC 61000-4-15), flicker emission (IEC 61400-21) and mechanical power/efficiency
EXPERT features: rolling calculation meets FGW-TG3 (TR3) requirements
Synchronization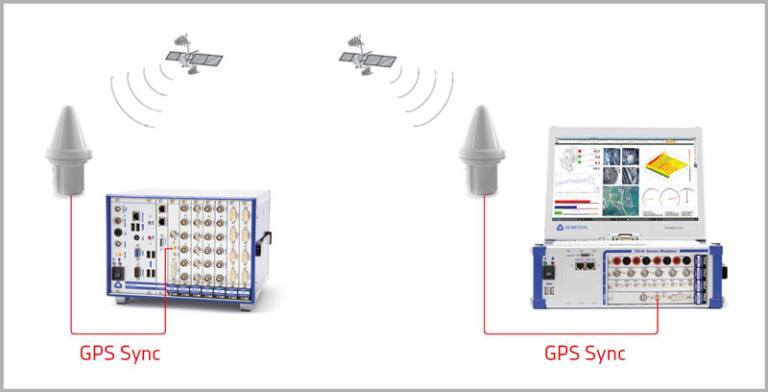 Use our TRION-BASE, TRION-TIMING or TRION-VGPS module to acquire data synchronously to other measurement devices. Relative time and absolute time synchronization are supported.
Absolute time synchronization via PTP (IEEE 1588), GPS and IRIG
Relative time synchronization via PPS and TRION-SYNC-BUS
Optional synchronization of operating system time
Trigger & Events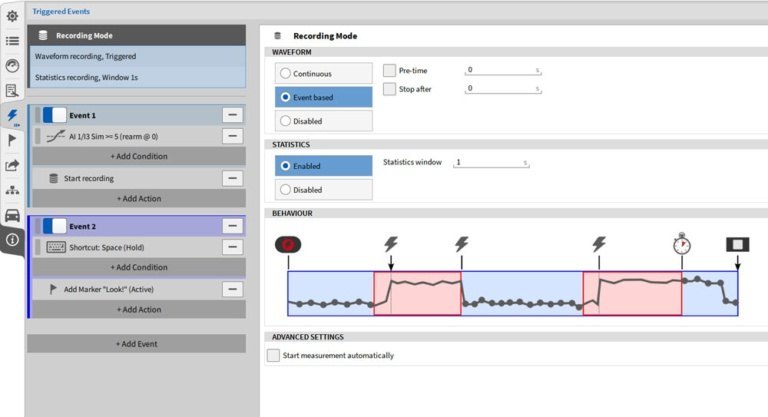 The powerful trigger and event system makes it easy to record data in case of events, create marker, set a digital output or make a snapshot of the actual measured data. The user can create different events, each consisting of one or more trigger conditions and one or more actions.
Many different trigger conditions: signal level (positive/negative edge, window) with optional rearm level, keyboard or time
Powerful actions like start/stop of recording, set an alarm with optional digital output, set a marker with pre-defined text or make a snapshot of the actual measured data.
Analysis and Postprocessing
The real work often begins after the live measurement. To complete this workflow, OXYGEN also supports post-processing and analysis of the recorded data.
Use many of the math and calculation (also incl. FFT) features to refine your measurement results
Create new visualizations and measurement screens
Quick navigation through the data with well-known gestures and intuitive zoom and scrolling mechanisms
Create reporting pages (see below)
Export data to complete your workflow
And the best: you can do that also on your PC, license-free!
Reporting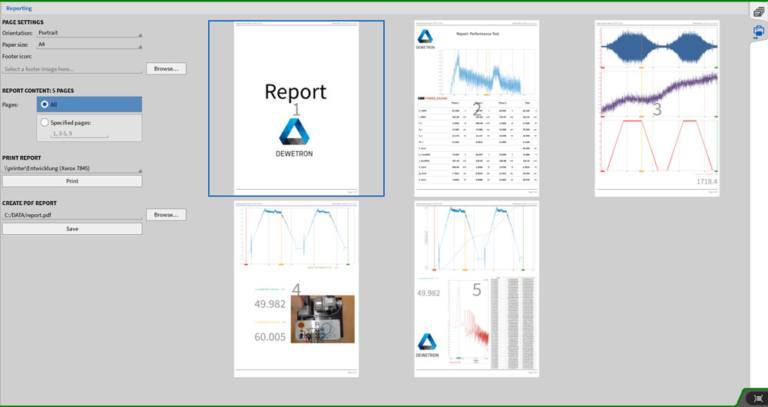 Use OXYGEN for your whole measurement workflow. From acquiring data to post-processing and finally reporting the data. OXYGEN supports you with the creation of simple reports, which you can create very fast:
Separate reporting pages (additional to the measurement screens) with typical printing layout (A4, letter, portrait, and landscape)
Just duplicate a measurement screen or create new pages with a simple click
Use all instruments and visualizations also in the reporting pages
Separate time-cursor on each page available to report different time snippets in one report
Directly print or save to pdf