PURE RECORDING
It is time for something new. Something simple and pure. It is time for PU[REC]. Discover the data recorder for the next generation. Our PU[REC] is portable, expandable, easy to use with touch operation and delivers the well-known and widely appreciated DEWETRON quality. Enjoy your measurement task and the analysis of your data with the included measurement software OXYGEN – during the recording as well as afterwards. Enjoy your PU[REC].




THE NEW PU[REC] - YOUR PORTABLE PARTNER EVERYWHERE
The rugged chassis allows you to use the device even in rough environments to analyze electrical or mechanical components in sectors like aerospace & defense, power, industrial & manufacturing, automotive or any other application you can imagine.
HARD FACTS
DEWETRON's PU[REC] is exactly what you need. Therefore, it is you who decides the capabilities of your new data recorder. You can choose between two options: 50 kS/s or 200 kS/s. In addition to that, you can extend your PU[REC] with a highspeed CAN interface and customize it with a wide range of analog input channels (MSI) as well as with quasi-static channel expansion modules (EPAD2).
sampling rate 50 kS/s (optional 200 kS/s)
analog input channels 16 x 9-pin female D-SUB
voltage input range ± 10 V
Data storage 1 TB SSD
Dimensions 463 x 129 x 318 mm
display 15.6" multi-touch display
weight 8.5 kg
power supply 90 to 264 VAC
accuracy ± 0.02 % of reading; ± 0.01 % of range ± 20 μV
YOUR MESSUREMENT DEVICE FOR FIELD TESTS
PU[REC] is your ideal partner for field tests. This is for instance guaranteed by the portable design, the simple synchronization options and the pre-installed measuring software OXYGEN, which can also be operated via the integrated multi-touch display.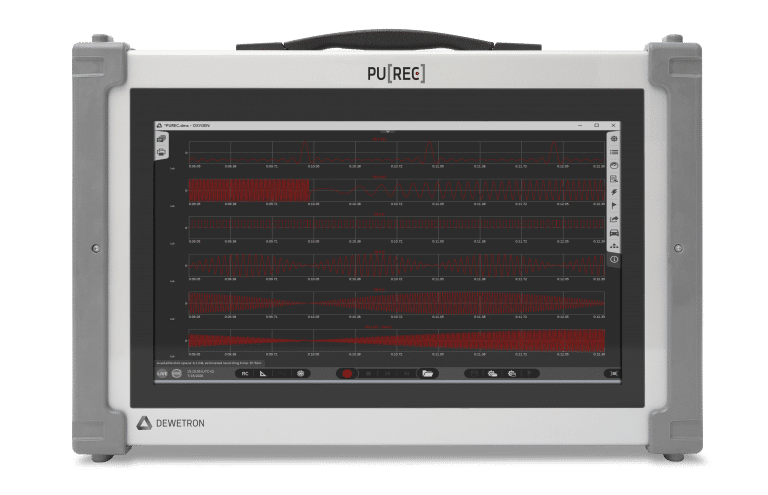 THE NEW PU[REC] WITH MEASUREMENT SOFTWARE
OXYGEN
The pre-installed measurement software OXYGEN – also a DEWETRON product – enables gapless data recording. OXYGEN is the most intuitive measurement software, you have probably ever seen and even allows you to operate it via multi-touch display. Customize the software according to your measurement tasks by defining different screens and views!
YOUR RELIABLE PARTNER
Your PU[REC] and its 16 expandable channels allow you to record your data reliably and gap-less – exactly like you need – with various features (trigger, export, visualization, analysis, reports, etc.).