Electrical Vehicles for Transportation
The increasing volume of traffic, especially in the city and the need to reduce CO2 emission is today the primary reason to promote public transportation. Electric buses, subways and trains contribute to less city traffic, reduce emissions, and drive with renewable energy independent of fossil fuels. DEWETRON offers the right solution for online power measurements, efficiency calculation and for analyzing mechanical parameters.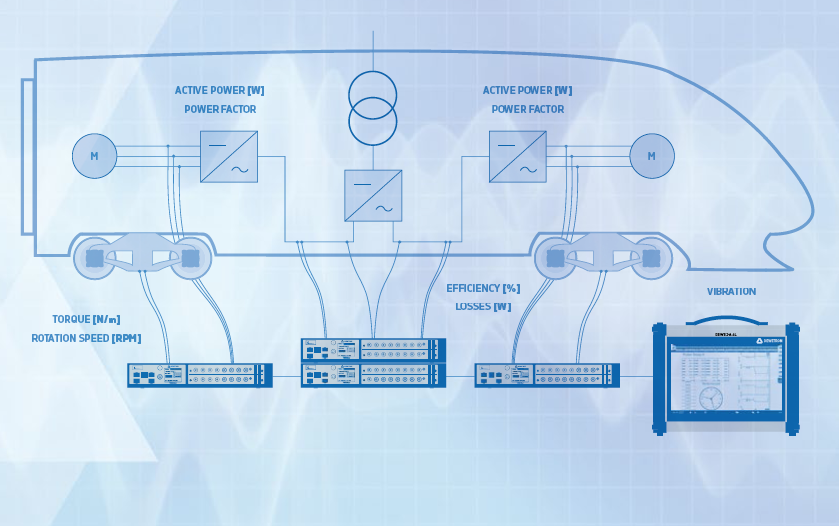 POWER ANALYZER
DEWETRON's distributed and synchronized solutions makes it easy to test electric trains and buses in real driving applications and on a test bench. Even for testing electrical trains or electrical buses with several traction motors DEWETRON offers the right solution for online power, efficiency calculation and for analyzing mechanical parameters like torque, rotation speed, vibration or environmental parameters such as temperature even for wide spread measurement points. High sample rates, broadband filters, high performance power calculation and additional inputs for CAN and counter turn the DEWETRON solution to the right tool for testing electrical vehicles.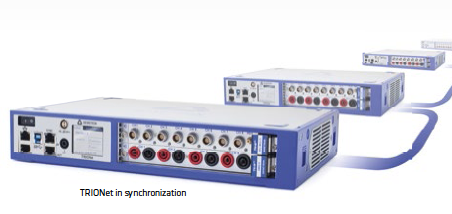 9 TRIONet Distributed systems
4 TRION-1820-POWER-4
16 TRION-POWER-SUB-dLV-5V
4 TRION-1603-LV
1 TRION-CAN
1 TRION-VGPS
1 TRION-ACC
Power supply units for clamps and transducers, ±15 V and 9 V
Current clamps
Hall transducers up to 1000 ARMS
Different interfaces and export formats
Measurement software OXYGEN with power option
The system allows you to measure voltage and current of several AC power groups and single phase DC systems. In addition the system provides on-line continuous calculation, display and storage of power quality values (P, Q, S, PF, Efficiency, losses, fundamental frequency) and Power quality parameters of the grid. The real flexibility of the system is in its possibiklity to bundle power and electrical measurement together with other measurements like speed, torque, rotational speed, video, vibration of traction system, temperatures, noise and others.
Results
Simultaneous analysis of several traction motors, transformers and batteries
Efficiency calculation of AC/AC and DC/ AC converters
Synchronized measurement of mechanical and environmental parameters
Power Quality parameters of train grids, even for special frequencies
High accurate power analysis with different fundamental frequencies
Online calculation of efficiency and losses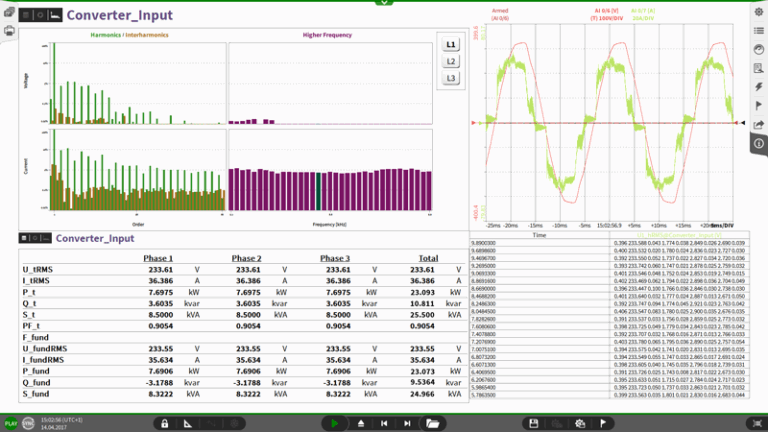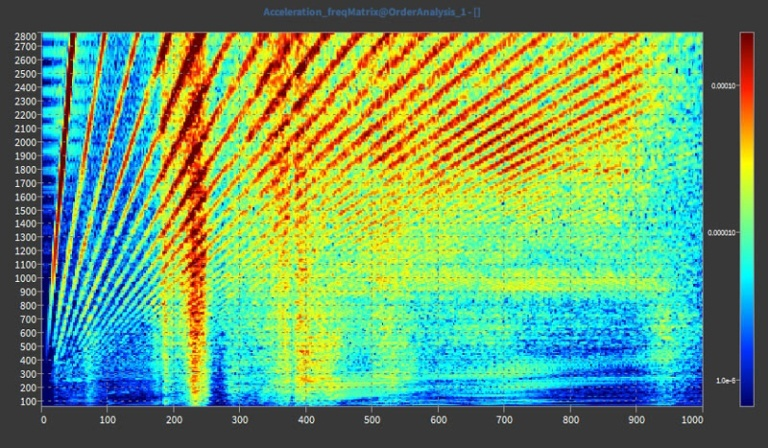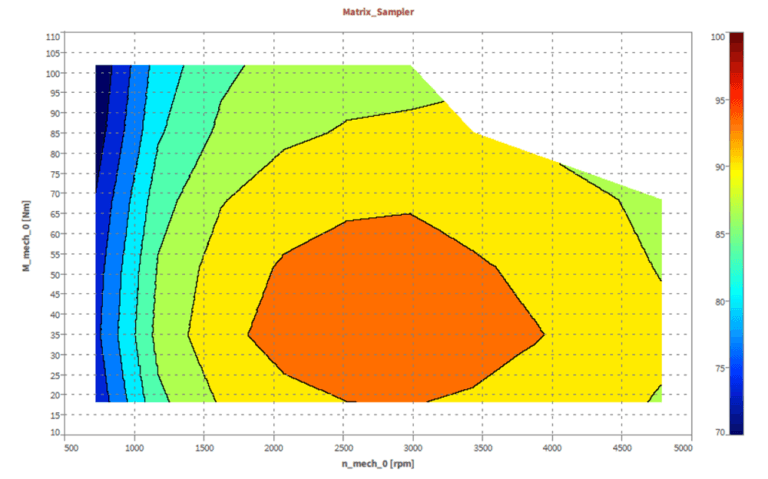 Your Benefits
Synchronized measurement of several traction motors
Simultaneous analysis of multi-power systems (AC and DC motors / converters)
Efficiency analysis of motors and converters
Simultaneous acquisition of structural and mechanical parameters
Position tracking and speed measurement
Ride and comfort testing
Analysis of power quality on the grid side
REQUEST ADDITIONAL INFORMATION OR DEMO