OXYGEN is a data recording and data analysis software developed and distributed by DEWETRON. An important feature of our OXYGEN software is the online and offline analysis of data. But what does online or offline analysis acctually mean?
What is online and offline analysis?
The measurement and, above all, proper analysis of data, is an art of its own. You do not always have the correct settings done right away, to get the data you need. To allow some flexibility in this regard and to facilitate the life of engineers, there is online and offline analysis. With online analysis, you can analyze data during the measurement. This has the advantage that the complete analog data is available. But often you want to display and process the data differently afterwards. For this purpose, there is the offline analysis. Data that has been measured and recorded, can be evaluated in the offline analysis at a later point in time. This inevitably brings with it the disadvantage that the full analog data is not available, but only a limited measurement period. We will explain what this implies in detail in the following chapters. To use online or offline analysis, three modes are available in OXYGEN: LIVE, REC and PLAY. To perform online analysis, use the LIVE mode. In this mode, OXYGEN records the raw data in real time, but does not yet save it. The user can modify the raw data with formula channels and other analysis tools. To perform offline analysis, use the PLAY mode. Data previously recorded in REC mode can, for example, be imported as a *.dbc file. Afterwards, it is possible to modify the data as desired or to export it.
Offline mathematics and offline decoding
Online analysis has the disadvantage that you have to know how to analyse the raw data before you start the measurement. But online analysis also confronts one with hardware limitations. To decode raw data in real time and still analyze it mathematically at the same time, requires a lot of computing power. There can also be problems related to memory since the encoded files usually consume less memory than the decoded ones. In OXYGEN you can apply formulas, filters, statistical analyses and FFT afterwards. Therefore, since one does not have to evaluate the data live, this is also possible with slower hardware (but may require loading times). Additionally, it is possible to use the Psophometer plugin, the Swept-Sine-Analysis plugin, the Rosette calculation, the Sound Level calculation and the CPB analysis in offline mode. Offline decoding of CAN data streams is also possible. However, offline analysis does not only have advantages. A disadvantage becomes apparent when you use integrators. If one applies an integrator to a data signal (i.e. integrating the signal), a transient process occurs. With a real-time measurement, however, one can avoid this transient process since the data was already available before the actual measurement. An online analysis therefore makes it possible to postpone the transient process so that it is already over when the actual measurement begins. Similar problems can also occur with other data analyses.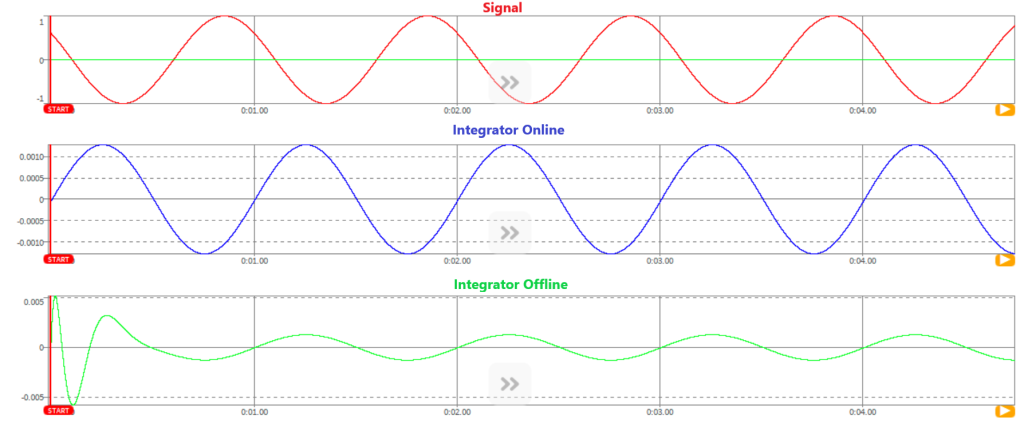 Transient behavior of an offline integrator (green curve)
More information about OXYGEN Data Acquisition Software
For more information on how the online and offline analysis works, what are the other features in Oxygen or to receive a presentation of DEWETRON Measurement System, contact us at info@sci-meas.com