DEWETRON's modular measurement solutions are the right tools for developing and testing drive trains, electrical engines, motors and inverters as well as electric & hybrid vehicles on a test bench.
Because of the flexible and modular product concept, it is possible to analyze efficiency, electrical and mechanical power, temperature, torque rotation speed and much more with a single DEWETRON Power Analyzer.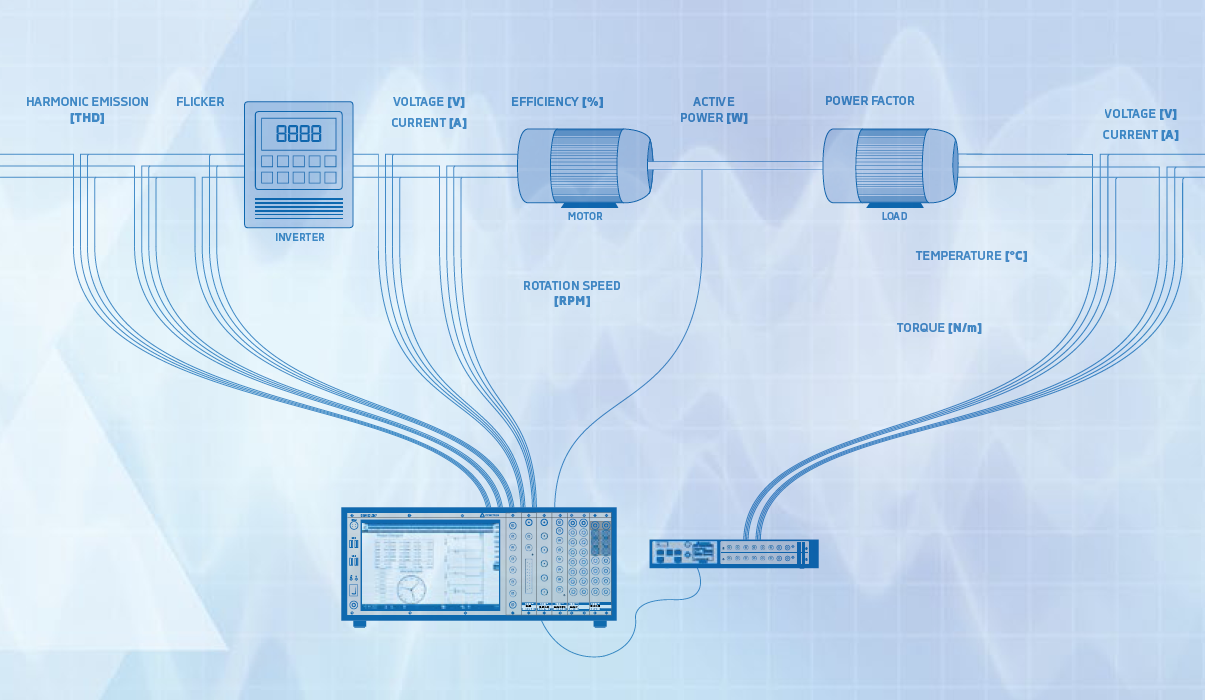 POWER ANALYZER
DEWETRON's measurement solutions effortlessly analyze efficiency and losses during different drive cycles, calculate the power factor of the electrical engine during acceleration or analyze the battery behaviour at different temperatures. Different interfaces and inputs provide for the capture of CAN-data, video, vibration, rotation speed, and torque simultaneously and synchronously. Sampling rate up to 10 MS/s/ch and bandwidth up to 5 MHz in combination with broadband and high accuracy transducers guarantee accurate and precise data. Plugins such as Combustion Analyzer or Power allow our customers to analyze and test hybrid cars with one DEWETRON Power Analyzer. The modular product concept allows configuring systems with up to 16 power faces in one system. With optional racks and expansions, it is possible to configure the perfect measurement solution for your test bench application. The software OXYGEN with Power option guarantees highly accurate data on a stable, modern and expandable platform. The easy to use software with auto-configuration helps you to save time and get your work done. DEWETRON's solutions are professional tools for professionals in R&D, certification and test.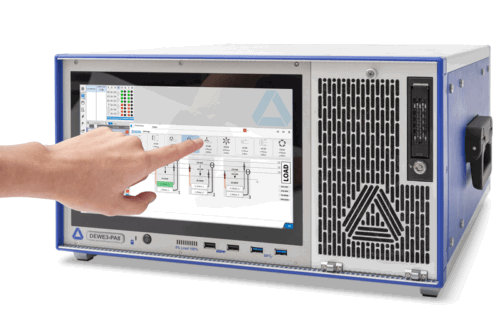 1 x DEWE2-PA7 or DEWE3-PA8 mixed signal power analyzer

Power analysis and efficiency determination of inverter and motor

1 x TRIONet, smart synchronized frontend for channel expansion
3 x TRION-1820-POWER-4 or TRION3-1810-POWER-4

3 x HV inputs inverter input
3 x HV inputs inverter output (motor)
3 x HV inputs load

6 x TRION-POWER-SUB-CUR-2A, for current measurement via ZeroFlux transducer
6 x PA-IT-700-S-BUNDLE, ZeroFlux transducers for up to 700ARMS
3 x TRION-POWER-SUB-dLV, low voltage input for current measurement via clamp
3 x SE-CUR-CLAMP-500-DC, high precision AC/DC current clamp
1 x TRION-BASE, counter/encoder input
1 x TRION-CAN-2, 2 CAN interfaces
1 x EPAD2-TH8-x, dedicated temperature module
1 x OXYGEN-OPT-POWER-ADV, option for harmonic, flicker analysis
1 x OXYGEN-OPT-SCPI, remote control interface for DEWETRON power analyzer
1 x OXYGEN-OPT-CAN-OUT, CAN out option for DEWETRON power analyzer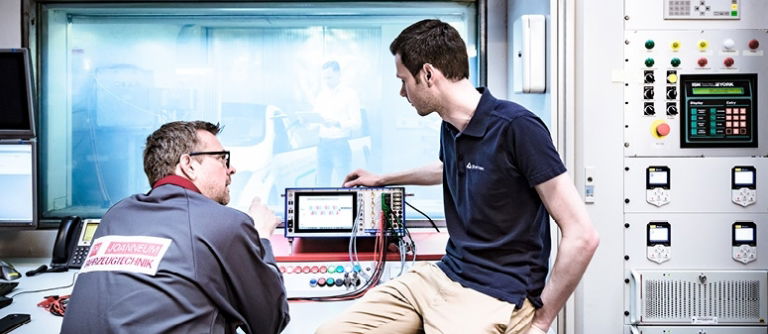 Results
Online power calculation for two 3-phase power groups
DC power calculation for battery power, air-conditioner and heater
Efficiency calculation for drive train, calculation of losses
Calculation of mechanical power
Analysis of efficiency, PF and losses
Analysis of temperature influence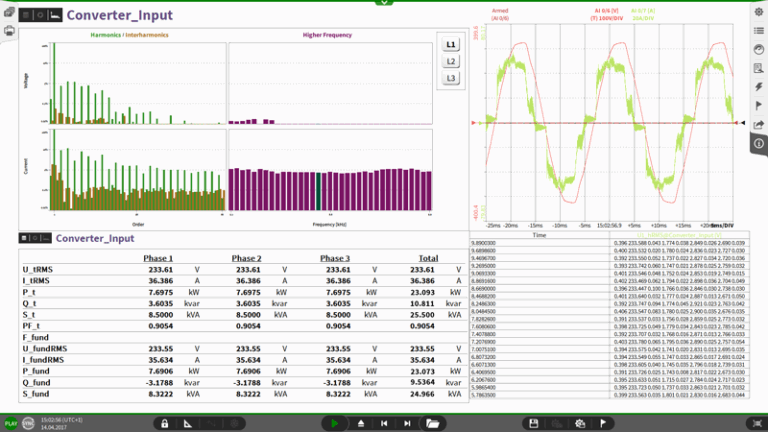 Your Benefits
Precision and synchronous calculation of several power groups
Fundamental frequency support from 0.2Hz to 1/10 od acquisition rate or DC
Determination of efficiency and losses
Recording of dynamic processes
Simultaneous sampling up to 10MS/s/ch
Isolated high speed modules
Analysis of rotation speed and torque
Observation of rotary field
Additional data: pressure, temperature, vibration, strain, CAN-data
REQUEST ADDITIONAL INFORMATION OR DEMO