The smallest Power Analyzer
TRIONet is a compact front-end solution for synchronous high-speed data acquisition across great distances and distributed locations. The front-end system communicates via Ethernet or USB 3.0 bus and can be operated intuitively with OXYGEN. The TRIONet can be connected to any Windows computer via either USB or Ethernet. Alternatively, TRIONet systems are high-speed channel expansions for other DEWETRON DAQ systems and can be interconnected using Ethernet. On the front, there are two TRION module slots that can be equipped with TRION modules as required. Thus, the flexible TRIONet can be turned into the smallest power analyzer in just a few steps.
Distributed or local measurements
TRIONet's integrated synchronization between devices and remote PCs makes it the ideal solution for distributed measurement tasks. Because of the Ethernet interface, TRIONet mainframes can be placed up to 100 meters (328 feet) apart from each other. Decentralized measurement tasks are easily managed with intelligent, simple cross-linking and the capability to increase the number of input channels as needed. Zero configuration effort is needed. Simply hook-up your TRIONet to any PC or laptop. It's that simple.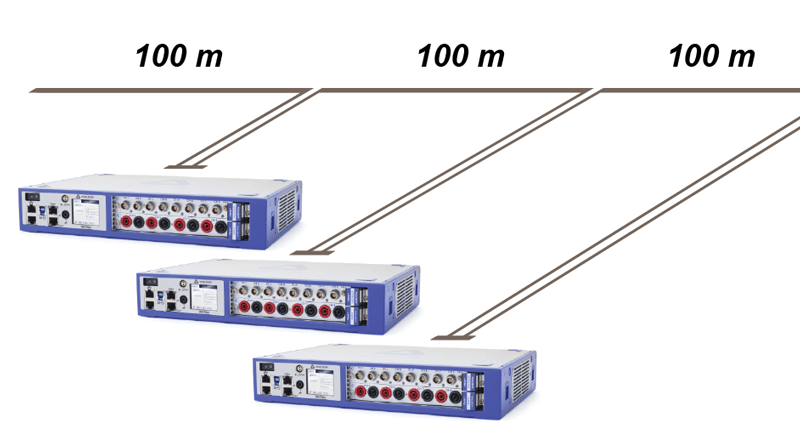 The smallest power analyzer
Every DEWETRON data acquisition system can be a mixed-signal power analyzer, the TRIONet too. Just choose between different TRION power modules for power analysis up to 2 MS/s sampling rate. You only need one TRIONet for mixed-signal inputs such as
Isolated high voltage & current inputs
High-performance auxiliary inputs
CAN interface
Test bed integration
Counter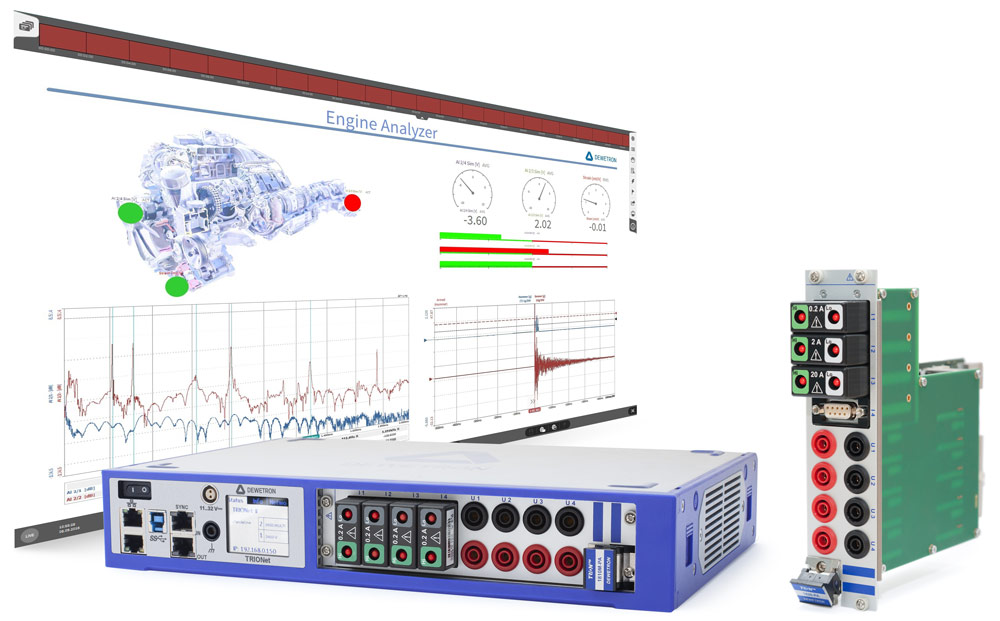 OXYGEN Measurement Software
The TRIONet can use its full potential with our easy-to-use OXYGEN measurement software. It supports you with a huge amount of software features that are continuously extended with each new release. Data acquisition is one of the core features of OXYGEN. It is capable of continuous and synchronous acquisition of data from several sources: digital, analog, counter, encoder, CAN, Ethernet, video, GPS, and many more…
Analog data with up to 2 MS/s sampling rate via TRION modules
Digital and encoder data with automatic RPM and angle calculation
CAN(-FD) decoding via *.dbc, including J1939. Compatible with Vector VN-series (option)
User-exchangeable DAQ modules
TRIONet supports the data acquisition modules of the TRION series, but not of the TRION3 series. DEWETRON offers TRION modules for almost every sensor and input (e.g. voltage, current, power, bridges (strain gauges), potentiometers, vibration (IEPE), RTD, CAN, thermocouples, counter inputs, etc. Use external time sources for synchronization, like GPS, PTP, or IRIG.

Connect current transducers
You need to connect current transducers to a TRIONet? Then use the DW2-CLAMP-DC-POWER-8 box for connecting up to eight current clamps. The box comes with an integrated power supply for up to eight current clamps (±15 V/+9 V), as well as a power supply connector for the instrument (11 to 32 VDC).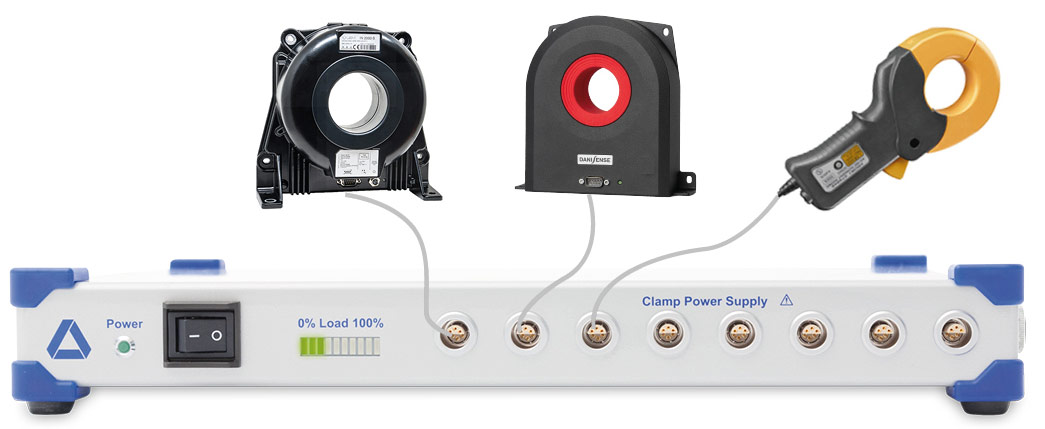 Battery pack for independent power supply
Do you temporarily have no power supply for the DAQ system? No problem with the optional battery pack. By using the external battery pack, you can turn your TRIONet into a power-independent data acquisition system for up to one hour. The external, stackable battery pack offers DC power supply with three hot-swappable batteries. Due to the hot-swappable technology, the three batteries can be exchanged during the ongoing measurement and enable mobile continuous operation without any disruption.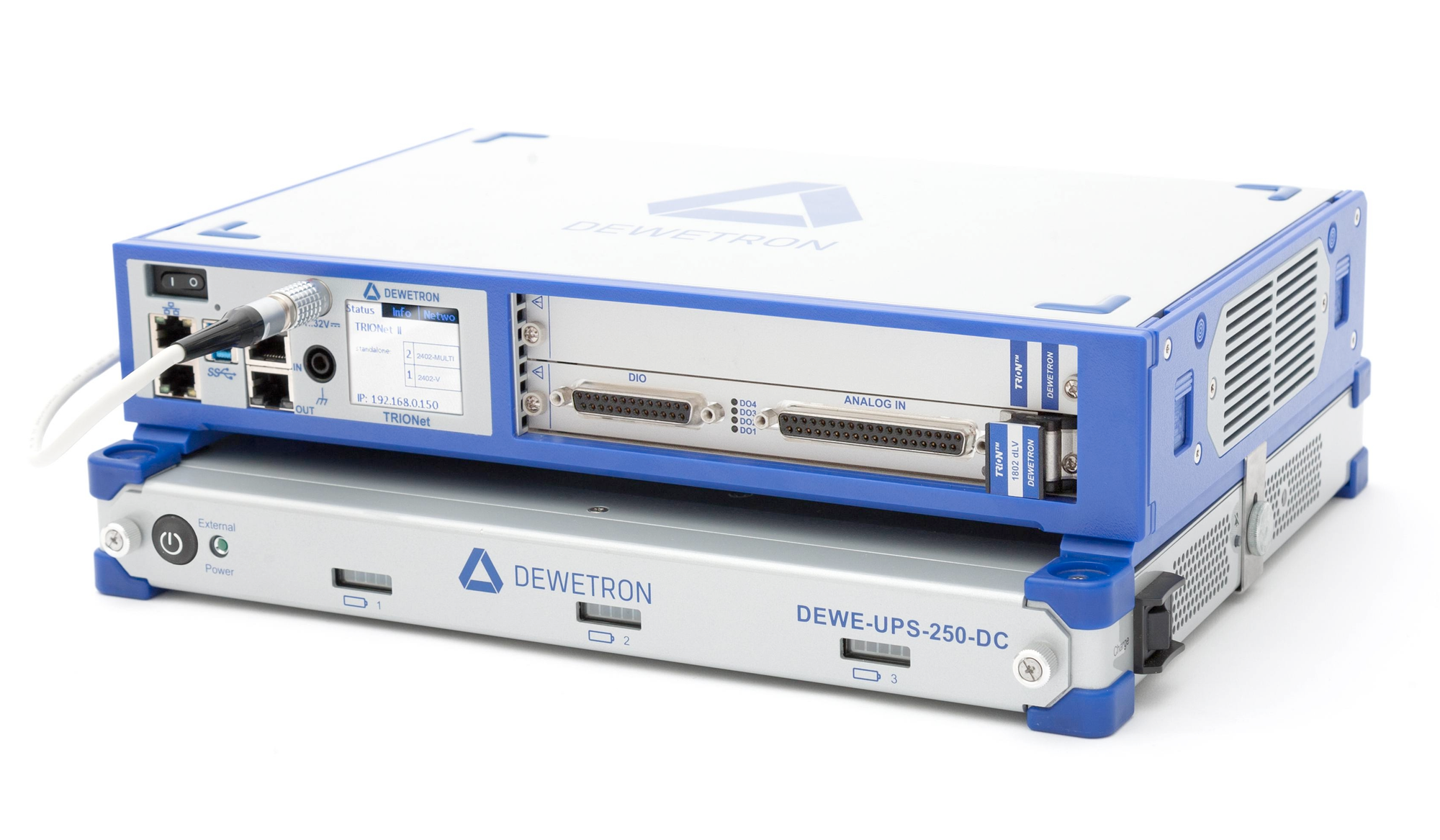 For more information, product DEMO or EVALUATION, contact us on: info@sci-meas.com