Restaurant Temperature MonitoringWireless Temperature Monitoring System for Restaurants

Our state-of-the-art temperature monitoring system uses the latest IoT sensor technology to provide facility managers peace-of-mind in knowing the building, equipment, and inventory are all being kept within the optimal temperatures. Built by industry experts with extensive experience in wireless communication, cloud-storage, and cyber security, the temperature monitoring system is easy to deploy and requires no ongoing software maintenance. The system can be configured and viewed from a computer, tablet, or smartphone, and anytime the system needs your attention, notifications are sent to you via text, email, or phone call Features included within our temperature monitoring system include Live and Historical Data Visualizations, Integrated Location Tracking, Synchronized Video Monitoring with Enhanced Video notifications through integration with Eagle Eye Networks, and much more.
Prevent food spoilage
Restaurants lose up to 5% of food to spoilage. Constantly monitor and set notifications in any part of the restaurant where food can be spoiled with our wireless temperature monitoring system.
Eliminate manual logging
Have your employees focus on delivering quality food and service. Swift Sensors systems ensures all critical measurements are monitored and notifications sent to managers when needed.
Streamline compliance reporting
Ensure compliance with food safety requirements and local health departments with continuous real time monitoring and easy to produce reports of all food temperatures measured with our wireless temperature sensor.
Swift Sensors – What is it?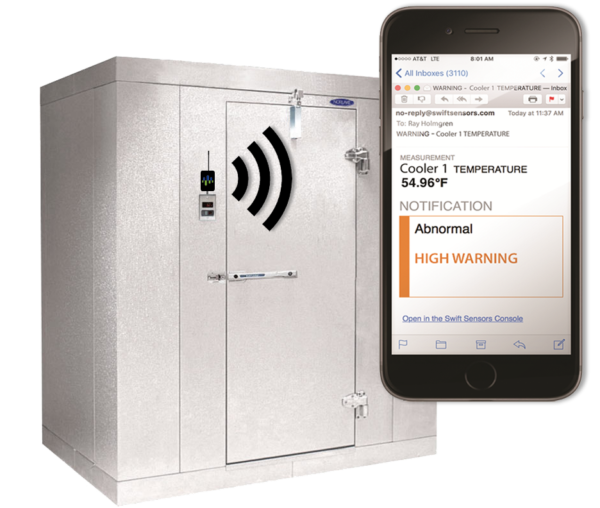 Swift Sensors is a system of small wireless sensors (wireless monitor system) that proactively manage your critical restaurant equipment. There are 3 main parts:
Sensors. Sensors are small wireless devices that easily attach to your equipment to measure things like temperature, humidity, door access, vibration, water presence, etc.
Thresholds. Thresholds are the specific ranges you set for particular measurements you want to monitor. For example, you might set a threshold of 45 degrees for your walk-in cooler to make sure the temperature doesn't rise too high.
Notifications. Notifications are alerts that are sent when certain thresholds are met. Many of our restaurant clients want to receive notifications for situations where a walk-in temperature goes above 45 degrees for more than 1 hour.
Swift Sensors minimize food spoilage and improve food safety. Most important, Swift Sensors' remote monitoring system provides an extra layer of protection for your restaurant brand and reputation.
Swift Sensors – Dashboard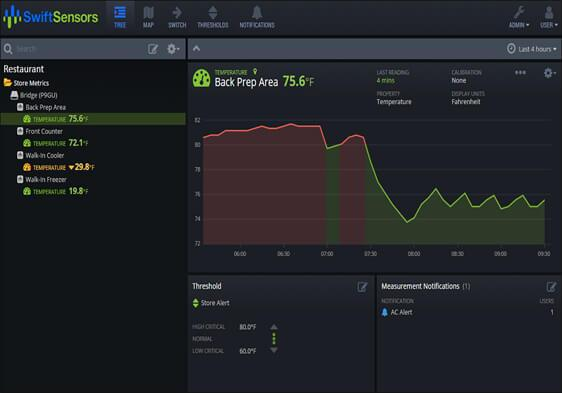 Using our central cloud dashboard, you can manage all of your restaurant equipment from one place online — from any device including tablets and cellphones. Swift Sensor's wireless temperature monitoring system is the central hub for all your critical monitoring needs. The good news is that now your restaurant management teams will have more time to manage the front of house rather than stressing over equipment woes in the back of house with our wifi temperature monitoring system.
Your Walk-in's Dirty Little Secret
Most of the restaurants we were called into, we found critical food safety problems due to walk-in cooler issues. Unfortunately, the management teams were not aware of the problem. Large temperature fluctuations in walk-in coolers put restaurant customers at risk of food poisoning, restaurant management teams at risk of food waste, spoilage and health department sanctions, and restaurant brands at risk of social media backlash.
In a large majority of restaurants, the primary food safety issue was the temperature inside the walk-in coolers exceeding 7 degrees C for several hours each day. Sometimes these lengthy temperature spikes were during the day, and sometimes they were after hours.
The problem was present in a wide variety of restaurants from small single-unit QSRs to leading franchise chains to high-end restaurant establishments. The results were the same. They each had walk-in temperature or humidity issues.
Most restaurants inspected failed to consistently meet compliance requirement.
For lack of a more efficient solution, many restaurants require kitchen staff to manually monitor the walk-in cooler temperatures. Unfortunately, this manual method is highly unpredictable because the staff do not perform this routine task responsibly—and even worse, management will not know if the manual monitoring is not performed.
Today, an automated, dependable, and low-cost solution exists to monitor walk-in coolers using a simple wifi connection to provide restaurants peace of mind. By using new Internet of Things (IoT) technology, restaurant owners can remotely and proactively monitor walk-in coolers with confidence and accuracy. Restaurant owners can now install small battery powered, wireless sensors about the size of a matchbox in their walk-ins and other areas of interest. These sensors check and record the temperature every 30 seconds and transmit the temperature data, via your wi fi, to the cloud where it can be reviewed, inspected and used for compliance reporting.
More importantly, if a temperature rises too high (or falls too low), restaurant teams are notified immediately via SMS text, email, or phone call. Action can be taken immediately and food safety maintained. The ROI on a monitoring system is typically less than 6 months. After the system is deployed the quality of the operation is improved, valuable employees focus on the customer experience, and protection against food spoilage and losses are active 24/7.