R5550 Real-Time Spectrum Analyzer
Beautifully Designed, Portable, Silent
Frequency ranges of 9 kHz to 8 GHz / 18 GHz / 27 GHz
Real-Time Bandwidth (RTBW) up to 100 MHz
Sweep rate of 28 GHz/s

Software-Defined Spectrum Analysis
The ThinkRF R5550 is built on innovative and highly optimizable software-defined radio technologies that provide more flexibility, greater coverage, and increased functionality. Beautifully designed and built for spectrum monitoring and deployment applications, the ThinkRF R5550 analyzer provides improved spectral performance in a lightweight, fanless, and portable form factor while enabling in-depth analysis of complex and wideband waveforms in challenging spectrum environments.


Sleek, Stylish Design
Designed to be sleek, lightweight, and silent, the R5550 offers improved spectral performance, lower power consumption, and improved portability at an attractive price. The emphasis on quality, usability, and design provides an alternative to traditional, bulky spectrum analysis hardware when deployed in the lab, out in the field, or in a vehicle for mobile applications.
Networked and Remote Deployable
Monitor in more locations with networking capabilities purpose built for remote and in-place spectrum monitoring. Standard GigE interface and streaming rates of 360 Mbit/s make the ThinkRF R5550 analyzer ideal for dispersed and continuous monitoring in any location.
Best Price-Performance Ratio on the Market
Enable a wide range of spectrum analysis applications while staying on budget with the best price-performance ratio available. Up to 27 GHz frequency range, 160 MHz IBW, 28 GHz/s stream rate, and a deep dynamic range means the ThinkRF R5550 analyzer can capture and analyze complex modern waveforms in real-time.
Compact and PC-Driven
Leverage advances in computing and networking by connecting to any standard PC. The easily upgradable ThinkRF R5550 analyzer is compact, lightweight, and low power, making it perfect for deployment in the field, on vehicles, or as part of a larger solution.
Proven Integrations
ThinkRF and its application ecosystem helps developers, engineers, and program manager see the full picture in complex spectrum environment. ThinkRF has a wide variety of application partners depending on your requirements.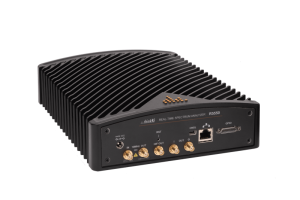 Benefits of ThinkRF R5550 Real-Time Spectrum Analyzer
Monitor in more locations with greater versatility provided by a compact form factor and the ability to network for in-place or remote monitoring applications
Detect complex waveforms with better performance and up to 27 GHz frequency range and 100 MHz instantaneous bandwidth for today's monitoring applications
Analyze new technology, like 5G, with additional capabilities through easily upgradable, software based technologies