R5750 Real-Time Spectrum Analyzer
Know the Location and Time of Measurements
Embedded Global Positioning System (GPS) capabilities
27 GHz Frequency Range
Real-Time Bandwidth (RTBW) up to 100 MHz
Mobile Applications for Wireless Situational Awareness
The ThinkRF R5750 Real-Time Spectrum Analyzer with GPS is built for mobile wireless situational awareness applications such as drive testing, coverage mapping, propagation analysis, direction finding & transmitter localization and vehicle based spectrum monitoring. With built in GPS capabilities, the R5750 analyzer enables engineers in the field to conduct in-depth analysis of complex waveforms while knowing the location and time of each measurement.
Beautifully designed to be sleek, lightweight, and fanless, the R5750 analyzer provides improved spectrum performance, lower power consumption, and increased portability for outdoor and mobile deployments. Optional IP66 rating offers increased durability and ruggedness for difficult environments.
Combined with the ThinkRF P120 Vehicular Power Conditioner and advanced software from our application ecosystem, users get a complete mobile spectrum analysis solution.


Sleek, Stylish Design
Beautifully designed to be sleek, lightweight, and silent, the R5750 analyzer with GPS provides an alternative to bulky, outdated hardware that has traditionally been available to users. With an emphasis on quality, design, and usability, ThinkRF has set a new standard for spectrum analysis equipment.
Built-In GPS
Underpinning all mobile wireless situational awareness applications is the ability to know the location and time of measurements. The R5750 analyzer with GPS synchronizes positional and temporal information with signal information to provide you with a complete map of the signal environment.
Network Deployment
ThinkRF R5750 analyzers are networkable and suitable for network deployment for improved RF detection range and ability to make time synchronous spectral measurements. This enables emitter location and direction finding (DF) applications, propagation studies and other applications, and allows users to easily make geolocation measurements on signals of interest using either time (through time difference of arrival, TDOA) or power (through received signal strength, RSS). The R5750 analyzers can be synchronized using two different methods: GPS (for outside deployments) and using the 10MHz reference in a master-slave configuration (for indoor deployments or wherever GPS may be absent)
Designed for Portability
Measuring just 10.13 x 7.63 x 2.36 inches and weighing less than 6 pounds, the R5750 analyzer is the ultimate portable solution. The ThinkRF R5750 is compact, lightweight, and low-powered, making it perfect for remote and distributed deployment or use in vehicles such as trucks, cars, military vehicles, UAVs, or boats.
Greater Coverage
Featuring 27 GHz frequency range, up to 100 MHz IBW, and 28 GHz/s stream rates, the ThinkRF R5750 provides the best price-performance ratio on the market and the coverage required to analyze today's complex, dense, and dispersed wireless signal environment.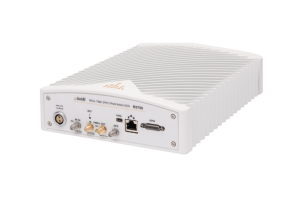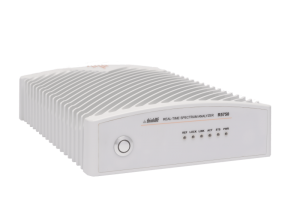 Benefits of the R5750 Real-Time Spectrum Analyzer
Improved spectral performance for better analysis
Integrated GPS to know the location and time of measurements
Reduced size, weight, and power requirements (SWaP) for increased portability
The best price-performance ratio available on the market
Increased functionality and greater frequency coverage than traditional handheld spectrum analyzers