Your advantages with our systems
Direct sensor connection to the system
Customizable signal connectors
Expandable from 2 to 1000 channels
Widest variety of input styles and supported sensors
Synchronization of all inputs
Voltage
Current
Temperature
Bridge, DC, AC
RPM
Video
CAN
Digital In/Out
1. High-speed data logger for fast recording applications
DEWETRON high-speed recording covers sampling rates from 200 kS/s up to 10 MS/s.We distinguish between stream recording and transient recording. DEWETRON stream machines are able to record continuously (gap free) up to 1 GB/s to the internal SSD. Storage capacity up to several TB. DEWETRON transient recorders can support sampling rates up to 10 MS/s. Storage capacity up to 4 GS/channel.
Isolated conditioned input (strain, voltage, current) @ 5 MHz bandwidth
Scalable and expandable from 4 to 128 channels
Portable and stationary systems
Online data view during recording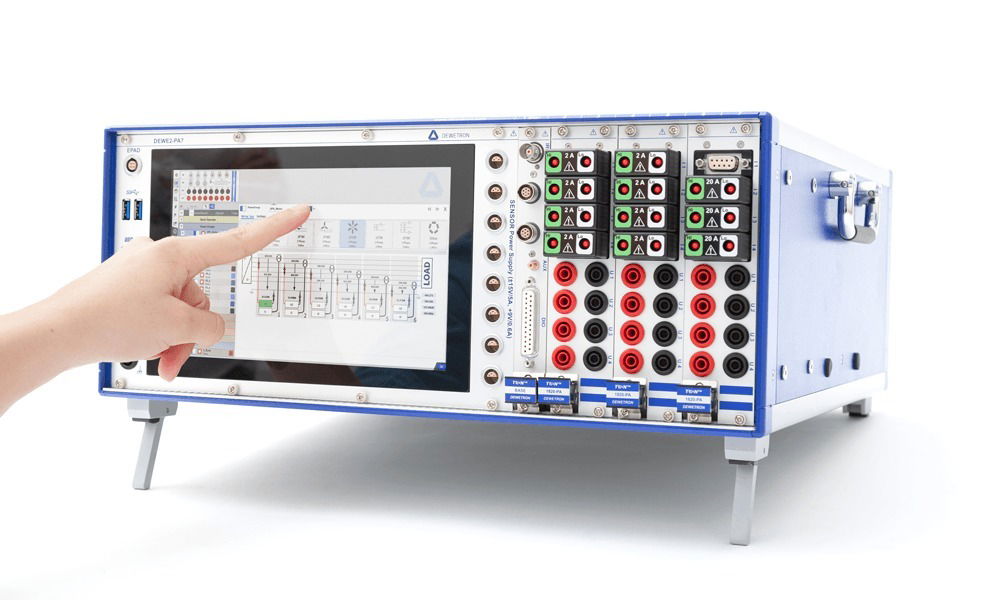 2. Distributed measurement systems for universal inputs
Simultaneous measurements at different locations
Very often measuring systems need to measure simultaneously at different locations. For example, power transformers of an electrical grid, multiple measuring points on long trains, or vehicles moving in different directions.
For those ambitious applications, we provide solutions that combine and synchronize already existing and new DEWETRON systems.
Our modular system architecture guarantees the right solution.
Synchronized recording
Almost unlimited distance
Acquisition rates from 10 S/s to 10 MS/s
GPS/IRIG clocked

3. Order Analysis for rotating machines
Very often errors and hidden faults on rotating machines are detected during the start-up and shut down.
DEWETRON order analysis is used to analyze these conditions by separating frequency components, which are related to engine speed from those related to structure.
Most DEWETRON order analysis systems are equipped with multiple measurement capabilities. For example recorder, scope, e-power, modal analysis
Select from more than 20 different systems